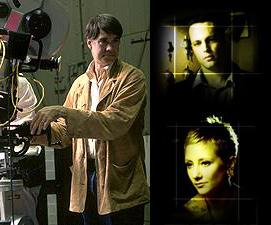 On Second Thought, Maybe I Don't Want A DVD Player
Doctor Once Again Involved In Fuming Incident
It's out of hand, it's getting outright ridiculous, and there's no tried and true DVD sucker who doesn't know what I'm talking about. If you'd like me to continue, please select if you'd like to read this in 5.1 or Dolby 2.0. Ready? OK. Widescreen or Standard Format? " Oh, definitely Standard. I'm a fucking idiot who has no idea why I bought a DVD player in the first place."
With the current predictability of the DVD formats, (now with one more endless Main Menu page after another) the DVD consumer has come to expect certain extras with their DVD's; certain "Bonus" materials. And I hope DVD manufacturers don't think tacking an original theatrical trailer on as the only "extra" is enough to fool us. We don't give a flying shit about a 2 minute 45 second advertisement for the film we just saw when that's the only "extra" we have. I always feel kind of gypped when I see the title block that indicates the trailer is over and I realize I have nowhere else to go except to read all the chapter selections.
I remember reading recently in some DVD review that consumers were disappointed that the Titanic DVD did not come with any "extras", i.e. a documentary or (one of DVD's legendary offers) an Alternate Track accessible through your endless menu page, that will allow you to watch the movie again with the director (and sometimes some actors or film historians or technical film nerds) describing the making of the film and other non-sequiturs that are designed somehow to make the viewer feel a personal connection with the filmmaker or the process of filmmaking. Arguably it can be interesting. But do I need to hear it on every film I see? Do you really want to hear James Cameron wax Messianic, as he pats himself on the back and describes to us what genius is? Isn't it disconcerting to hear Robert Altman talk about Cookie's Fortune and think he doesn't realize that his film was not really entirely successful? Do you think you would ever take the time to really listen to Roland Emmerich's alternate track on Godzilla? Do you think Joel Schumacher should do alternate tracks on ALL of his movies, or just the important ones like...
These Alternate tracks have become standard Extra Materials on DVD's (and previously Laser Disc) and now the DVD manufacturers have the audacity to call them "BONUS MATERIALS". What do they think I am, an idiot? Don't answer that. In order to demonstrate my point I am simply going to transcribe the first few minutes of the Alternate Track on the DVD of Gus Van Sant's Psycho. I believe this demonstrates the Cons of having an alternate track on just any DVD. Mr. Van Sant is joined here by his two stars; the charming and surprisingly clueless Vince Vaughn, and the relentlessly airheaded Anne Heche. I believe this clearly demonstrates what went wrong with the movie, and that, while Gus Van Sant may have actually recreated the original Psycho nearly shot for shot, he still managed to figure out how to render it neutral, un-involving and harmless.
FADE UP: UNIVERSAL LOGO
(MUSIC BEGINS: PATTERS OF SCATTERED MOMENTS FROM THE ORIGINAL "PSYCHO" SCORE, REARRANGED NOW AS IF THEIR COMING BACK TO US OVER EONS OF TIME)
GVS: (V.O.) Hi, I'm Gus Van Sant, I'm the Director of "Psycho"
VV: (V.O.) I'm Vince Vaughan, I'm in the movie "Psycho."
AH: (V.O.) And you are?... I'm Anne Heche, I'm also in the movie "Psycho."...Cast by Gus Van Sant.
FADE OUT: UNIVERSAL LOGO
FADE IN: IMAGINE LOGO (drop of water going into a pool, circles of water dissolve to the word IMAGINE, in this incarnation specially tinted red as opposed to its normal light bluish hue.)
VV: This is a drop... that's gonna... go into a pool...
GVS: (interrupting) This is...this is the Imagine luh.. logo...and we .. we uh, ..changed so it was red... red...cause it was normally...just ...clear...drop of water
A.H. You mean when it was in black and white, it was clear?
GVS: It was just designed clear rather than... red.
A.H. Oh... And what made you make that decision, Gus. (pause)
GVS: It's...arbitrary.
MAIN TITLES BEGIN: GREEN LINES ON BLACK
GVS: Now this is really interesting because this is blue.. but,, I don't know why, it's supposed to be green .... That's stray...the lines...
AH: 'Cause green wuh...was the cuh...color of evil, right.
GVS: Yuh Yeah, the lines... the lines... the lines are supposed to be....so If you're watching at home and it's blue...blue lines...it's...
AH: ...Imagine green...
GVS: ...Imagine green, yeah.
AH: ...and then look for green throughout in the movie, I would say right?
GVS: Yeah. AH: Yeah. And what it represents.
ACTORS CREDITS BEGIN TO APPEAR
AH: Vince, there went your name,
VV: Right
AH. That was cool
VV: The fabulous Julianne Moore
AH: Julianne's awesome,
VV: Vigo's awesome
AH: Absolutely. Well, Bill Macy just... rocks the world...
VV: ...Totally rocks
AH: ...of any movie he's in.
LARGE BLOCK OF NAMES APPEAR
AH: And all of those people are ...fabul... Chadder...Chad the chatter.
VV: The fabulous Anne Heche.
AH: Thank you ,Vince. As Marion Crane
CREW CREDITS BEGIN
VV: Howard Feur casting
AH: Howard!
GVS: You guys know Howard
AH: Yeeesssss
MUSIC CONTINUES
VV: (Humming to score)
VV: This is in a music video ... a rap video.
AH: (Trying to hum to score)
AH: Yeah, with a devil worshipper.
VV: No no, a different one, its in one with a... a... a...a... a... a art... a rap ...artist.
AH: Oh a rap...
GVS: Oh right
VV: Have you heard it!
AH: Oh you're right. That's very cool; that's very cool
GVS: Oh right, like a Portishead kind of thing?
VV: Was that part of a...did you know that was part...did you know that was going...
GVS: Yeah that's part of the record, too
AH: That's very ...awesome
VV: That was pretty interesting
AH: That was. That was.
GVS: You mean the one where you're saying... uh....
VV: I didn't know about...my voice was in it .I'm saying this music right here is going...
AH: Definitely.
VV: This right here
AH: Oh yeah,
VV: ...this right here is playing
GVS: This part here?
VV: This right here, this right here. This is going and then it's like him busting some fat rhymes for the kids.
A.H. Yay, for the Producers.
GVS: Where'd ya hear that?
VV: Grazer and Howie...
GVS: They played it for you?
VV: No, no I'm saying they were just on the screen; me and Anne were just...giving them love.
AH: Yeah...
AH: And Mr. Gus Van Sant . Yay! (clapping)
GVS: And Joseph Stefano, Joseph Stefano, Joseph Stefano, the screenwriter from the original...
AH: Very nice man
VV: Who was a very kind man
AH: Yes. Extraordinary man.
OPENINING TITLES END
FADE UP: PERFECTLY COLOR BALANCED SKYLINE
GVS: Now this is interesting too 'cause this is brown...and it's normally...
VV: Now this shot was kind of a big deal, to get done, wasn't it. Gus?
THE ALTERNATE TRACKS CONTINUES ON FROM HERE IN VERY MUCH THE SAME MANNER.
Give a listen if you think I'm exaggerating.
Drinking Game: At first I thought, take a shot every time Anne Heche says "Right!", but then I realized most viewers would be dead by the end of the film so I modified it; TAKE A DRINK EVERY TIME ANNE HECHE CONTRADICTS HERSELF BY AGREEING WITH SOMETHING THAT MOMENTS BEFORE SHE HAD STATED THE OPPOSITE.
Screen Recommendations
If you like this article, we recommend:
George Of The Jungle, Mary Shelley's Frankenstein, and The Right Stuff
MORE BACK
MAIN MENU