Mission Statement
About RTC
Spanking The Monkey
Links
---
PDF Files
Page One
Page Two
Page Three
Page Four
Page Five
Page Six
Page Seven
Page Eight
Page Nine
Page Ten
Requires Acrobat 3.0 or later
Dowload Acrobat
---

Subscribe to our mailing list for the latest news and updates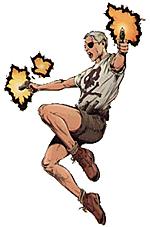 RTC Top 5 Alert
The Invisible Man
What if we told you that Grant Morrison's time-warping Anarchists' tale "The Invisibles" was one of the most subversive comics ever written? Then what if we told you Morrison's retooling of the "Justic League of America" saga featured an eight-part spinoff featuring each of your favorite superheroes fighting monkey super villains? Now what if we told you that we asked Grant Morrison for his Top 5 Favorite Subversive Films List? Our ACTIONS speak louder than words.
Grant Morrison's Top 5 Subversive Films
If...
Oh Lucky Man
Natural Born Killers
A Clockwork Orange
As his own personal act of subversion, Mr. Morrison's Top 5 list only contains 4 entries.