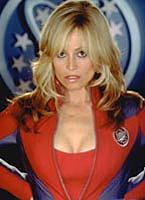 The Talented Mrs. Ripley
(This article is an endorsement of the Galaxy Quest web site, not the movie or anything else to do with Tim Allen.)
These days you can't throw a pre-owned copy of The 13th Floor out the window without hitting a website for a movie. And the number of movie fansites often outnumbers the amount of people who actually saw the movie. So, what do you make of a fan site for a movie based on a popular t.v. show? Nothing unusual. Except the TV show that the film is based on never existed.
Dreamworks' Galaxy Quest (opens Christmas Day) is a star-studded space comedy (For a definition of Space Comedy, see Spaceballs or The Ice Pirates....uh, see Spaceballs) brought to us by the producers of Patch Adams and Rainman (so you know these guys know comedy).
The idea:THE CAST OF A POPULAR SCI-FI T.V. SHOW GETS MISTAKEN BY ALIENS AS SPACE AMBASSADORS AND ARE FORCED TO SAVE EARTH. Presumably, hilarity ensues. Online since April 1999, TRAVIS LATKE'S (a nom de mystere if ever there was one) GALAXY QUEST page is a comedy fishhook waiting for nibbling websurfers. Capturing the scoop- thirsty internet mentality with a fanatical inventory of archived material, the Galaxy Quest page is everything you want to know about a show that never existed.
Our favorite is the in-depth analyses of Travis' five favorite episodes or his personal account of "the man" trying to undermine all things Quest-ian. You won't know who they are talking about. You won't get the "inside" jokes. But, take safe harbor in the fact that nobody else knows either. Now that you're in on it, go visit.