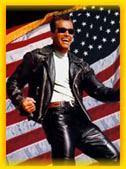 End Of Working Days
How Arnold Schwarzenegger Is The Kiss Of Death To Female Co-Stars' Careers
Don't get us wrong. We love the Robin Tunney and we want to see her in quality projects for a long time. So where some might see November's Arnold vs. Satan "Quien es más macho?" slugfest End Of Days as the Tunney's chance to break off her very own chunk of Super-Hype, RTC has done some snooping into the career paths of former Arnie sidekicks, and somebody needs to call Anthony Edwards... fast! Because the flatline's so bright, we gotta wear extra sunscreen.
THE TERMINATOR (1984)
Ex-queen of the world Linda Hamilton followed this sci-fi opus with a monkey movie. Normally, this gets props from us, but the movie was King Kong Lives and even we have standards. Can next be seen in Leprechaun 5: In The Hood. (seriously. you can check.) We can easily imagine Ms. Hamilton reminding her agent that Arnold said he'd be back.
COMMANDO (1985)
Unwilling to be typecast as the hapless female sidekick, Rae Dawn Chong decided to expand her artistic palette with the high-fivin'-at-Harvard laugh riot, Soul Man. This left her so scarred she could only find work as HERSELF in father Tommy's smoke-em-if-you-got-em epic, Far Out Man. And don't forget a fresh-faced Alyssa Milano who still has not met a straight-to-video script she didn't like.
THE RUNNING MAN (1987)
Maria Conchita Alonso was so convincing as the Eve to Arnold's Adam that she was cast in a Predator movie. Predator 2. The one without Arnold. The one with Morton Downey, Jr. and Ruben Blades.
RED HEAT (1988)
Jim Belushi was not Arnold's female sidekick; however, he too has suffered from the Schwarzenegger curse.
TOTAL RECALL (1990)
Rachel Ticotin did one bad movie (One Good Cop) and will rise from the ashes in 1999's TV miniseries, "Aftershock". And yes, we all know Sharon Stone's storied career. But after seeeing Gloria, we predict she will soon become one of those stars that are famous for being famous.
KINDERGARTEN COP (1990)
Pamela Reed got two shots at beating the Schwarzengger curse (also Junior) and all she has to show for it is Gregory Nava's Why Do Fools Fall In Love?, which we can only presume she played the white lady.
TRUE LIES (1994)
Jamie Lee Curtis' career didn't need a boost from Arnold, but hey, how about a little help for Dr. Juno Skinner (as played by the recklessly vacant Tia Carrere)? Don't worry, she'll show all of them when her new series, "Relic Hunter" cleans up in syndication.
JINGLE ALL THE WAY (1996)
If you think Rita Wilson's eleven film career is based on acting craft and skill, then we want to know why Peter Scolari's wife isn't getting any work. Not even Arnold can stop the power of the Gump.