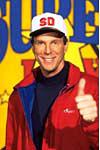 Random Super Dave Fact:
He is Albert Brooks' brother.
This One Is For You!
The whole point of mass media is to spread your message to as large an audience as possible. We here at RTC aren't too bright that way and continue to narrow our focus on the smaller demographics- Connoisseurs of Monkey Movies, Asia Argento fetishists, Robot Lovers. And now we present something for the public faction most over-looked by the mainstream media – The One Guy Who's Been Wondering When The Super Dave Osborne Movie Is Coming Out On DVD.
Next on 1/11 comes The Extreme Adventures Of Super Dave, which is anamorphic 1.85:1 and full frame, and has the usual MGM booklet.
– info posted at www.dvdfile.com