Bringing In The Dead
When Movies That Can't Be Missed Become Movies That Can't Be Made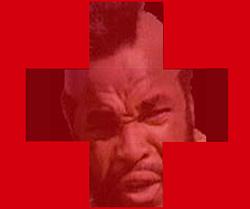 THE A-TEAM
Universal was once on board to bring back everyone's favorite band of mercenaries. Stephen J. Cannell brought in Richard Hatem, the man who gave life to Under Siege 2, to update the tv series, but so far, no one's biting. Perhaps once Dirk Benedict's comet- like career slows down, we'll see results. Needless to say, we pity the fool that greenlights this one.
CRUSADE
This Middle Ages epic once sat atop the Things To Do lists of both Paul Verhoeven and Arnold Schwarzenegger. So, why is Arnold chasing Satan while Verhoeven waits for Elizabeth Shue's achilles heel to rehab before finishing shooting The Hollow Man? Originally, the 90 million budget was to be funded by Carolco. Enough said.
THE STINKY CHEESE MAN
When they make a movie of a book, there's a lot of fat that gets cut out. But what happens when the book is less than 100 pages. We look forward to seeing if Nickelodeon can flesh out our favorite by Jon Scieszka and Lane Smith.
SUPERMAN LIVES / REBORN
Depending on whose script they go with (Kevin Smith, Wesley Strick and Dan Gilroy have all taken stabs at it), the return of the Man of Steel will have to go on without Tim Burton's involvement. Burton's absence and the arrival of script doctor William Wisher (Eraser, The Thirteenth Warrior, Broken Arrow) does not bode well for Superman in the race against the next Batman movie to be the first superhero flick of the millenium to completely suck.
PURE EVEL
Matthew McConaughey is slated to be guided by Betty Thomas (Private Parts), but we just want to see the real Evel arrive at the premiere by jumping the camera trucks.