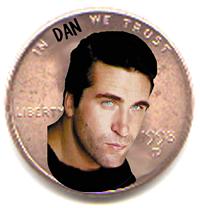 The Right Turn Clyde Rehab Prevention Act
Sometimes a guy can't quite catch a break. Maybe it's because he can't find the right script. Maybe it's because he has three brothers, who, though marginally talented, are all more famous than he is. Maybe it's because he is Daniel Baldwin. We here at RTC feel the pain of the black sheep of the Baldwin clan. Over the years, we've followed his career in film, in television, and, oh yes, in jail.
When your career is as stalled as a flooded 18-wheeler driven by a quadraplegic, it's hard to blame a guy for turning to the hard stuff and smashing a few hotel rooms. As a public service, RTC has decided to take the high road and take notice of Daniel Baldwin's illustrious film career in hopes that even the slightest amount of acclaim will restore Mr. Baldwin's sense of self- worth and aid in keeping drugs out of his life.
And back into ours where they belong.
Vampires (1998) .... Montoya
Fallout (1998) .... J.J. Hendricks
Love Kills (1998) .... Danny Tucker
On the Border (1998) .... Ed
Pandora Project, The (1998) .... John Lacy
Phoenix (1998) .... James Kotter
Treat, The (1998) .... Tony
Invader, The (1997) .... Jack
Mulholland Falls (1996) .... McCafferty
Trees Lounge (1996) .... Jerry
Yesterday's Target (1996) .... Paul
Bodily Harm (1995) .... Sam McKeon
Car 54, Where Are You? (1994) .... Don Motti
Dead on Sight (1994) .... Caleb Odell
Knight Moves (1992) .... Andy Wagner
Nothing But Trouble (1991/I) .... Dealer #1
Born on the Fourth of July (1989) .... Vet
Next Month:
Our Plea To Andy Dick