You Wanted The Best, You Got The Best
RTC's Look At A Few Of The Films Starring The Members Of KISS
By Shorty LaBrea
jonmichaels@earthlink.net
Detroit Flop City
If you have not gone out and seen this movie yet, and by the opening weekend box-office of two million clams, chances are good that you haven't, I would say don't bother. Save this one for video. The only thing that is truly worth the movie theater experience is the 5.1 surround-sound remix of classic KISS anthem – and the movie's namesake – Detroit Rock City. (Of course a DVD player and a good stereo system could probably top this.)
KISS vs. Brion James In A Celebrity Death Match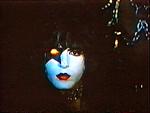 This has to be one of the weirdest movies I have ever seen. Part after-school special, part concert video, part sci-fi / action / thriller (and I use the term "action" loosely), KISS Meets The Phantom of the Park is destined to live among the ranks of such classics as Plan Nine From Outer Space, and could have easily shown up on an episode of MST3K. I can understand why The Donnas had this one on their Top Five Movie List. (See RTC number 2.)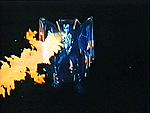 Directed by Gordon Hessler, who brought us some great episodes of "Wonder Woman" and "ChiPs" to the small screen, it is easy to see why most of this movie plays out like a bad after-school special. Melissa and Sam are at an amusement park enjoying the rollercoasters but Sam (who works there) has to check on some strange things. Meanwhile, the park manager has brought KISS in to do three shows to help business, but Abner (the designer of the park attractions) is not happy about rock-n-roll at his park, and is kidnapping people to turn them into the perfect robots.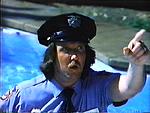 This movie has such RTC-worthy talent as John Dennis Johnston, Anthony Zerbe, and The Real Don Steele. Even Brion James shows up and is allowed to utilize his innate acting ability to its fullest as the character of the doofus security guard with such memorable lines as, "Hey, let's go get some coffee."
Did you know that KISS has superpowers? Yeah, neither did I. Apparently thanks to some mystic talismans, the band members are able to exhibit extraordinary abilities like: flying, shooting lasers out of their eyes, teleporting from place to place, breathing fire, moving objects with their mind, and oh yeah, mounting a hugely successful reunion tour some twenty years after the original line-up split due to creative differences. Definitely don't miss the scene where KISS gets to battle it out with evil Robo-KISS under the control of the mad scientist.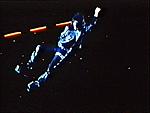 I went to junior high with a kid who had the habit of taking off his shoe in the cafeteria during lunch, smelling it, exclaiming "Man, that smells weird! See?" and then shoving it in the face of the person sitting closest to him. RTC is adding KISS Meets The Phantom to its Must See List if only because it is a movie that most closely approximates this sentiment. This shit is too weird not to be true.
Skippy Is A Headbanger!?!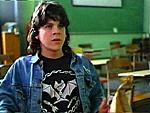 After a desperate hunt that was closer to Lancelot's quest for the grail than a search for a cheesy 80s horror flick, I did manage to turn up a copy of Trick Or Treat, and let me tell you, it is well worth the effort. Quality-wise, it probably deserves a little mudslinging. It's really little more than your average regurgitated teen-horror schlock-fest. But in RTC terms, this movie is a rare gem!
TV's Marc Price (Skippy from "Family Ties") plays Eddie, your average metal-head dork, who is tormented by the high school jocks, and expresses his frustration in letters to his rock-n-roll hero, Sammi Curr – played by the dancer Tony Fields. (Give your favorite heavy metal star the taste test and see if he or she can beat Sammi's moves.) Unfortunately, Sammi dies in a hotel fire. Whatever is an angst-ridden teen to do? Why, raise said rock star from the dead by playing his records backwards, of course – duh! – so that said rock star can exact vengeance on said jocks who torment said teen.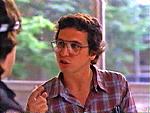 Ok, ok, so the acting pretty much sucks and the story is kind of lame for preying upon authority-figure fears of Satanic messages hidden in rock songs. They even have the audacity to include a scene where Skippy's – I mean Eddie's – mom accidentally turns on his stereo only to be confronted with such an onslaught of heavy-metal-guitar mayhem that all she can do is scream in fear and pain, while pawing desperately at the stereo in a vain attempt to not only understand this "complex" electronic device known as a "stereo system," but also shut it off. (Silly woman. Only men could EVER hope to fully comprehend such technological intricacies.)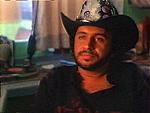 So-Called Celebrity Roll Call! Sound Off! Charles Martin Smith, who you may remember as the balding dorky guy from such films a American Graffiti and Never Cry Wolf, directs this horror romp and makes a cameo appearance as one of the high school's teachers. (By all means, please check out another of Mr. Smith's directorial masterpieces, the equally horrifying, Air Bud.) Look for Alice Nunn in the role of Mrs. Cavell, the teacher spearheading the fight against that most heinous of moral blights, rock-n-roll. If you're showing off your movie-trivia knowledge and someone should ever confront you with the question, "Who the hell is Alice Nunn?" Just tell them, "Large Marge sent ya." Don't miss "X-Files" executive producer Glenn Morgan as Skippy's – I mean Eddie's – good friend, Roger.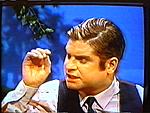 And what would a rock-n-roll horror flick be without real-life heavy metal cameos? Ozzy Osbourne makes his acting debut as the Rev. Gilstrom on a crusade to end filth and perversion in rock music. Oh, the irony! Don't blink or you'll miss the God of Thunder himself, Gene Simmons, as the radio station disc jockey and friend of Skippy – I mean Eddie – who unwittingly hands over the record that will bring back the zombified Sammi Curr.
This high school horror flick gets a C+ in my grade book for acting and originality but an A++ for cult value and "so bad it's good" fun. If you can find it, I'd say it's easily worth the price of a rental, but don't forget to put your Stryper album back in the closet after you're done. Someone might find it.