Movies That Came And Went And You Didn't
Twin Falls Idaho
There is a strain of philosophy that believes that you can not truly define something unless you can also define its opposite. The Polish Brothers' Twin Falls Idaho is a film whose "high-concept"-premise (Siamese Twins Meet Hooker) conjures up memories of Tod Browning, yet delivers an altogether different experience. So, let us look at all of the things that T.F.I. is not.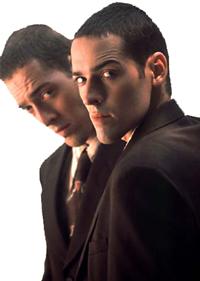 1) Twin Falls isn't a vaudevillian parade of sideshow freaks. In fact, aside from a brief cameo by a midget (!), Blake and Francis Falls (Mike and Mark Polish) are the only physical anomalies in the movie.
2) Twin Falls is NOT "Twin Peaks." Anytime I read a review that describes something as "Lynchian", I assume that the reviewer didn't understand it, and decided to lump it in with all of the Stan Brakhage and Peter Greenaway films they didn't "get". Twin Falls eschews the freaks on parade agenda for more resonant, emotional issues-fear of commitment, attachment anxiety, orphaned children, and the desire to connect. Unlike the grey, antiseptic world of Dead Ringers, Twin Falls is a romantic tale, unabashedly sentimental- the rare independent movie that savors the details of courting and documents the uneasy side of attraction.
3) Twin Falls doesn't look like the work of first-time filmmakers. Typically, indie directors assume (correctly) that their first film may be their only shot at making a film, so they break out every camera trick in the D-I-Y handbook. The Polish Bros. show a respectable amount of restraint, instead focusing on creating a dark, lush, inviting look reminiscent of Vermeer.
4) Most films cart out Beloved 70's Icons like an irony-laced calling card. "Hey, look we know Soleil Moon-Frye!". Twin Falls peppers the cast with familiar faces-Lesley Ann Warren, Garrett Morris, and the guy who played Laszlo in Real Genius (Jon Fries). William Katt even shows up as a doctor (I guess that would make him the Greatest American Doctor). The Polish Bros. have the good sense, though, to cast them in actual plot-advancing roles, not as nostalgia-is-a-reward window dressing.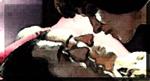 5) Twin Falls Idaho has nothing to do with the Built To Spill song, Twin Falls. The brothers play twins, their last name is Falls, and they live on Idaho St. Finally, this is something that falls outside of the categorical restraints mentioned at the top, but still bears mentioning. Everybody in this movie has great smiles. If you're a fan of teeth, twins, or attention-grabbing film debuts and you didn't see Twin Falls Idaho, it's time to get out your ass-kicking shoes and spend some quality time alone.