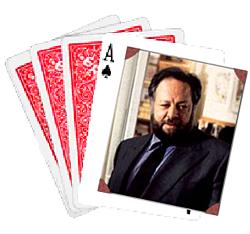 Watch The Amazing Ricky Jay Conjure Up An RTC Movie List
Back in the golden age of film - anytime before the movie Virus - directors had their own repertory companies, a stable of actors that they regularly worked with. David Mamet upholds the tradition by consistently casting old college friends like William H. Macy or whomever Mamet's married to at the time.
One member of the Mamet Mod Squad that always makes us stop slouching and take notice is the magnificent Ricky Jay. Armed to the teeth with more card tricks than that guy who ruined your 11th birthday party, Ricky Jay is that rare breed of actor - one that honestly SHOULDN'T quit his day job. Besides appearing in his one-man show, "Ricky Jay and his 52 Assistants," he also writes a quarterly, Jay's Journal of Anomalies, and has time to empty his sleeve of an RTC Movie List.
Ricky Jay's Five Highly Recommended Confidence Game Movies
Pickpocket (Bresson)
The Lady Eve (Sturges)
House of Games (Mamet)
The Spanish Prisoner (Mamet)
Confidence Girl