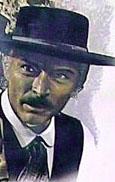 Lee Van Cleef
The Baddest Man Alive. Oh Wait...
The genius that was Lee Van Cleef rode into the sunset 11 days before Christmas 1989. Many people first got to know LVC in Leone's The Good, The Bad, and The Ugly. Unfortunately, that was his 56th film, and the greatest amount of on-screen damage one man could do goes largely unviewed. If he made eye contact with you in a film, your character could plan on not being in the sequel. Lee Van Cleef's searing glare and economic use of words is lifted today by every wanna- be tough guy from Michael Madsen to Tom Sizemore and back. (A short trip.) Arnold Vosloo in Woo's Hard Target is so "bad" that his character is named Van Cleef (character development, be damned).
We salute Lee Van Cleef, for a career of unbridaled villainy that announced itself with High Noon and hit the showers with Speed Zone!. LVC-the type of badass that would kill you, kill your momma, kill her momma, then have the peace of mind to take the kids to Magic Mountain and kick back with a peach smoothie. Mr. Van Cleef, you were, without a doubt, THE MASTER.
LVC - 01/09/1925 - 12/14/1989