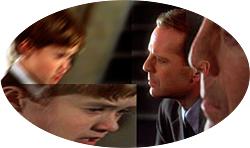 The Sixth Sense
Hearing Aid Required
People have been complaining about movie trailers being too loud for a few summers now. Hollywood, being the knee-jerk reactionary that it is, has already taken an innovative step in lowering the volume of our beloved sneak previews-WHISPERING. Take a listen (if you can hear it) to the coming attraction for Sony's The Sixth Sense, a supernatural Dead Zone -meets- Mercury Rising. (hey, that was Bruce Willis' LAST movie!) We admit that a child uttering hushed warnings with fear is fairly effective on the terror-ometer. But, is there truly a need for little Haley Joel Osment (best-known as Forrest Gump, Jr.) to whisper almost EVERYTHING he says?
To provide evidence of both our point and our ample amounts of free time, we have typed a transcript of the trailer for The Sixth Sense.
Dialogue that is spoken is printed in CAPS.
Dialogue that is whispered is printed in lowercase.
BOY: YOU KNOW THE ACCIDENT UP THERE?
MOM: YEAH?
BOY: SOMEONE GOT HURT.
MOM: THEY DID?
BOY: A LADY. SHE BROKE HER NECK.
MOM: OH MY GOD, WHAT? YOU CAN SEE HER?
BOY: YES.
MOM: WHERE IS SHE?
BOY: STANDING NEXT TO MY WINDOW.
MOM: BABY, WHY ARE YOU SHAKING? COLE, WHAT'S WRONG?
BRUCE: YOU EVER TALK TO YOUR MOM ABOUT HOW THINGS ARE?
BOY: I DON'T TELL HER THINGS. 'CAUSE SHE DOESN'T LOOK AT ME LIKE EVERYBODY ELSE AND I DON'T WANT HER TO. I DON'T WANT HER TO KNOW.
BRUCE: KNOW WHAT?
boy: i see dead people, walking around like regular people.
bruce: i don't see anything. are you sure they're there?
boy: sometimes you.....like you're falling down real fast. you ever feel the prickly things on the back of your neck?
bruce: yes.
boy: that's them.
boy: they get mad. it gets cold.
bruce: how often do you see them?
boy: all the time. they're everywhere.
BOY: THEY WANT ME TO DO THINGS FOR THEM.
BRUCE: I THINK THAT THEY KNOW THAT YOU ARE ONE OF THESE VERY RARE PEOPLE THAT CAN SEE THEM. SO YOU NEED TO HELP THEM.
BOY: WHAT IF THEY DON'T WANT HELP?
BRUCE: I DONT THINK THAT'S THE WAY IT WORKS.
boy: how do you know for sure?
BRUCE: IS ANYONE THERE?
WOMAN: LOOK OUT!
boy: please make them leave.
bruce: i'm working on it.