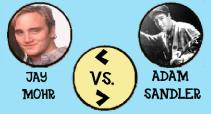 Greater Than, Lesser Than
An RTC Forum of Disgust
THE BRAIN TEES OFF: Does Adam Sandler have his own Suicide Kings? Paulie? That movie with Jennifer Aniston and Kevin Bacon? Jay Mohr is some stupid frat-guy WASP who publicly subscribes to Juggs but jerks off to Abercrombie and Fitch displays. If we're giving out awards for "funny" based on over-the-top impressions, Jay needs to get in line behind Rich Little, who's was honored in July for his work on "Mike Hammer," when he did Stacy Keach's voiceovers while Mr. Keach was detained in a British slammer.
Who knew shaving cream could be so... bracing?