If You Like Depressing Movies...

By Ingmar Bergman's Depressed Cousin

In 1977, Woody Allen created Annie Hall, his seventh comedy. Later that year, Annie Hall won the Oscar for Best Picture while Woody took home a little gold man for his Best Director efforts. Thanks to this success and notoriety, Woody gained complete artistic freedom on his next film. So, in 1978, Allen followed up his most brilliant comedy with his most brilliant drama, Interiors.
Interiors is a showcase for the modern manic-depressive: the breakup of a family, a nervous breakdown, attempted suicide, drug use, multiple life failures, forsaken dreams, unrequited love, attempted rape, sibling rivalry, abortion, electric shock therapy, writers' block and death. Damn, I love this film.
Woody said, "I wanted to go for the highest kind of drama. And if I failed, I failed. That's okay.But what I was aiming for, if I had made it, it would have been very, very significant. I'm not saying that I made it, but the ambition was good, the ambition was high."
He most certainly did not fail. Interiors turns out to be one of Allen's greatest achievements. The only reason this stark drama never got the attention it deserves was because Woody Allen directed it. He was supposed to be a comedian. He wasn't supposed to make you think too hard. John Waters wrote, "...if Allen had done this film under a Swedish pseudonym, it would be considered a classic".
Speaking of Swedish, this film looks a lot like a certain Swedish director's films. Godfather veteran and longtime Allen cinematographer Gordon Willis lays a few sheets of tracing paper over the Sven Nykvist book of photography-long, quiet shots & bleak visuals that match the mood of the scene. Also, like Bergman, Allen showed restraint in his sparse use of music.
The acting in this film is top notch with no weak links. Especially amazing performances are turned in by Geraldine Page as the somber and unstable ex-wife and Maureen Stapleton as the vibrant new wife. They never have a scene together, but they play off the repercussions of each other's actions so well.
The next time you go to the video store and you're about to rent Hannah and her Sisters again, pick this up instead and judge for yourself. I promise you-it won't be rented.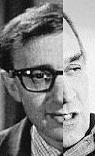 Rare photo of awards-snubbed Woody Bergman (pre-Prozac)
Mia Farrow's August TV Appearances
The Purple Rose of Cairo
Tue Aug 3 01:00P HBOE- Home Box Office
Mon Aug 23 02:30P HBOE- Home Box Office
Tue Aug 31 06:30P HBOE- Home Box Office
Rosemary's Baby
Sun Aug 8 10:35P TMCE- The Movie Channel
Thu Aug 19 03:00A TMCE- The Movie Channel
Sun Aug 22 05:30P MAXE- Cinemax
Sun Aug 29 12:45A TMCE- The Movie Channel
Widows' Peak
Wed Aug 25 01:00P LIFE- Lifetime