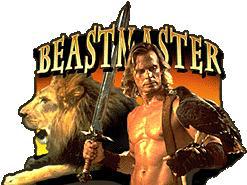 A Few Minutes In My Pants
By Mr. Pants
I admit it. I think Beastmaster is a great movie.
I mean, c'mon! You've got Rip Torn as the evil priest. A tiger that's been painted black and called a "black panther". John Amos as the benevolent, yet ass-kicking Seth. Ferrets saving the day by biting Rip Torn in the crotch. Tanya Roberts mostly unclothed throughout the movie. And a midget...'nuff said. If this movie had chimps and robots, this would be the greatest movie ever, Citizen Kane be damned.
All this brings me to my point: I am not a purveyor of classic cinema. I don't think I've ever watched a John Huston movie, for cripes sake. And I think that most French cinema back in the 60's is, well, I believe in French, the word is pronounced "crap". Sometimes, I much rather peruse Video Hound Golden Movie Retriever than actually watch a movie. I'm like Barnard Hughes's role as the stodgy old curmudgeonly coot of a grandpa from The Lost Boys who delivers the line "Who needs TV when you got TV Guide" or something to that effect. I got the Hound, who needs a movie?
So you get the idea that I spend an inordinate amount of time reading the Hound. And because of all this what may be perceived by some as inane reading, I have come up with Pants' Pick of the Time Being. I have done all the work while I share the benefits with you, the gentle reader. The pick is based solely on a summary of the film. Please do not be confused and think that I have actually WATCHED one of these movies. Lord no. I have better common sense than that, I mean I do have some taste, I mean I know that Weekend at Bernie's 2 fails to live up to any portion of its predecessor. (Ahhhh, Jonathan Silverman has never been better.) With that said, here is Pants Video Pick for the Time Being #1: Party! Party!

Ohhhh, baby!
Pants sez: GET IN YOUR CAR AND SPEED TO THE VIDEO STORE, JUMP THE CURB IF YOU HAVE TO, AND RENT THIS MOVIE!