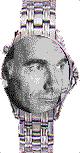 John Sayles' Uncredited Writing Contributions
1991 -
Love Field
(Dir. Jonathan Kaplan)
1992 -
The Quick and The Dead
(Dir. Sam Raimi)
1995 -
Apollo 13
(Dir. Ron Howard)
1997 -
Mimic
(Dir. Guillermo Del Toro)

Auteur Watch
John Sayles
In the godfather of independent film tug-of-war, John Sayles more than pulls his weight against the likes of Spike Lee (now a studio man) and John Cassavetes (now six feet under). With the regularity of Woody Allen or the summer solstice, Sayles made his way into theaters again this year with the survivalist drama, Limbo. When you ask people what their favorite Sayles film is, you'll get your Matewan, your Lone Star, and the occasional Brother From Another Planet. I'd like to offer up for consideration-1991's City Of Hope. Not to be confused with the Patrick Swayze higher-power flick City Of Joy, Hope lays out the blueprint for every critically-praised tv show of the past six years. NYPD Blue's gritty urban cop landscape? It's in there. E.R.'s darting camera that moves seamlessly from one plotline to another? It's in there. Homicide's unflinching take on the power struggles between law enforcement and government? It is IN there.
Juggling 36 characters (take that, Boogie Nights), City Of Hope visits one city and picks it apart with such meticulous detail that you'll feel like you know it better than your own town. Soap operatic yet never heavy-handed, Sayles moves the story along by moving the camera. Prior to his can't-sit-still work on Natural Born Killers & Casino, Robert Richardson's camera doesn't zig-zag, it floats between storylines like a character-driven spectre. Strong performances by Vincent Spano, Joe Morton, & a pre-Linda Hamilton Angela Bassett. A young Gina Gershon shows up, as well as a surprinsingly uncranky Lawrence Tierney. David Straithairn plays the same muttering vagrant as Smiley (Roger Guenveur Smith) in Do The Right Thing, then turns it up a notch and makes the character his own. City Of Hope, it's YOUR favorite Sayles film. You just don't know it yet.
Fun thing to keep an eye open for: When Vincent Spano looks at his childhood photos on the wall, stare in amazement at the uncanny resemblance to a teenage Adam Sandler.
---
Our Favorite Sayles Story
Reprinted from Sayles on Sayles (ed. Graham Smith Faber & Faber, 1998)
"Right after Secaucus Seven played the Filmex Festival, I got two gigs. One was writing a science fiction movie called Watch The Skies that Steven Spielberg was producing. It eventually got called Night Skies because somebody had the right to the words, "Watch the skies", which is the last line Kevin McCarthy says in Invasion of The Body Snatchers. It was about some farm people who were attacked by these little E.T.s who were mutilating their cattle. I put this autistic boy at the center of the family. My model was Drums Along The Mohawk, with aliens instead of Indians attacking the farm. I think it was Columbia where it was set up. They just said, 'You know, Steven, science fiction is over. This idea of yours about some boy with a little alien thing...We've got this thing called Starman, go away.' In this group of killer aliens who want to slice and dice this little autistic boy, there's one nice alien who makes friends with him, who gets left behind by his nasty compatriots. And the last shot is a hawk's shadow over him and him cowering. That's basically the first page of E.T. But I was off making Lianna so I couldn't work on it. Melissa Mathison did an incredible job. The Writers Guild sent me her script, just because they knew I was somewhere in the chain, but it had nothing to do with anything I wrote."
-John Sayles