Have You Heard?
Episode 2 Rumors Printed Here First
In this age of the Internet, by the time "Uncle" George Lucas puts the final period on the Episode 2 script, some dorks with a Xena fetish will have it posted on their web site. We have our fair share of covert industry insiders here at RTC and are proud to reveal the first scoops on the second most eagerly awaited prequel ever.
Kenny Baker to retire, Lucas says he will write R2-D2 out of script, try to explain the inconsistency in Episode 3.
Jar Jar Binks is Luke's real father.
Due to scheduling conflicts, Samuel L. Jackson will not return to the role of Mace Windu. Jim Henson's Creature Shop is hard at work on a life-like puppet to replace him.
In a startingly retro move, although Episode 2 will be shot digitally, it will only be released in the considered-to-be- defunct Betamax format. "Technology is overrated," Lucas said after knocking back his thirteenth martini of the evening.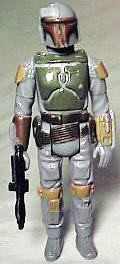 Price of Boba Fett action figure by Hasbro in 1980
$2.99
Price of Boba Fett action figure by Hasbro in 1998
$37.99
Price of feeding a small child in Africa on a daily basis according to Sally Struthers
$0.11